From The No-Sugar! Desserts and Baking Cookbook by Ysanne Spevack, published by Lorenz Books - available at all good independent book sellers in the USA and UK, at Barnes and Noble, Waterstones, and online at Amazon.com and Amazon.co.uk
Triple Pumpkin Blueberry Muffins
Triple pumpkin, with double luscious blueberries
I first developed this recipe for a special event I catered for a group of women who are cancer survivors. Eating no-sugar for these courageous women isn't optional. They need to pay attention to what they're eating, and equally, they need to smile and enjoy life without feeling deprived! They loved these little muffins because the ingredients are healthy enough for them to eat freely, and the taste and texture are equally as good as the sugary treats they no longer have.
There are ground pumpkin seeds inside, acting like ground almonds, and also there's homemade pumpkin milk, and pumpkin oil for triple the pumpkin!
Find freeze-dried blueberries, as they're much closer nutritionally to fresh berries. They're light and dry, reminiscent of popcorn, but when cooked in these muffins, they become juicy. The fresh (or frozen) blueberries become soft and gooey as the muffins bake, so the two different kinds of blueberries add an element of squishy, gooey contrast.
MAKES 16
INGREDIENTS:
175g/6oz/1 cup quinoa
185g/6 1/2oz/1 1/2 cups pumpkin seeds
2.5ml/1/2 tsp sea salt
5ml/1 tsp ground cinnamon
10ml/2 tsp baking soda (bicarbonate of soda)
120ml/4fl oz/1/2 cup cold water
45ml/3 tbsp pumpkin seed oil
2 eggs
175g/6oz/1/2 cup honey
150g/5oz/1 1/2 cups fresh blueberries (or frozen blueberries if out of season)
50g/2oz/1/2 cup freeze-dried blueberries, sugar-free
METHOD:
1 Preheat the oven to 190˚C/375˚F/ Gas 5. Line a muffin tin or pan with cupcake cases or papers.
2 Grind the quinoa in a food processor for about 5 minutes. It will become a mixture of fine flour and larger visible pieces of the grain. When it is as fine as it can be processed, tip it into a large bowl.
3 Grind 130g/4½oz/1 cup of the pumpkin seeds in the food processor for about 1 minute, and add them to the bowl. Mix in the salt, cinnamon and bicarbonate of soda.
4 Put 25g/1oz/1/4 cup of the pumpkin seeds, the water and oil in a blender, process to combine, then pour into a separate mixing bowl. Add the eggs and honey to the bowl and mix with a fork.
5 Gently fold in the fresh and dried blueberries, and the remaining 30g/1 1/4oz/1/4 cup whole pumpkin seeds, using a silicone spatula. Stir the wet ingredients into the dry ingredients very quickly to make a loose batter. Don't worry about any lumps, it's more important to work fast.
7 Pour the batter into the muffin cases and bake for 18–25 minutes, until the tops of the muffins are golden brown and a toothpick inserted into the middle comes out clean.
COOK'S TIP Try this recipe with barley malt syrup instead of the honey if you'd like a slightly milder sweetness.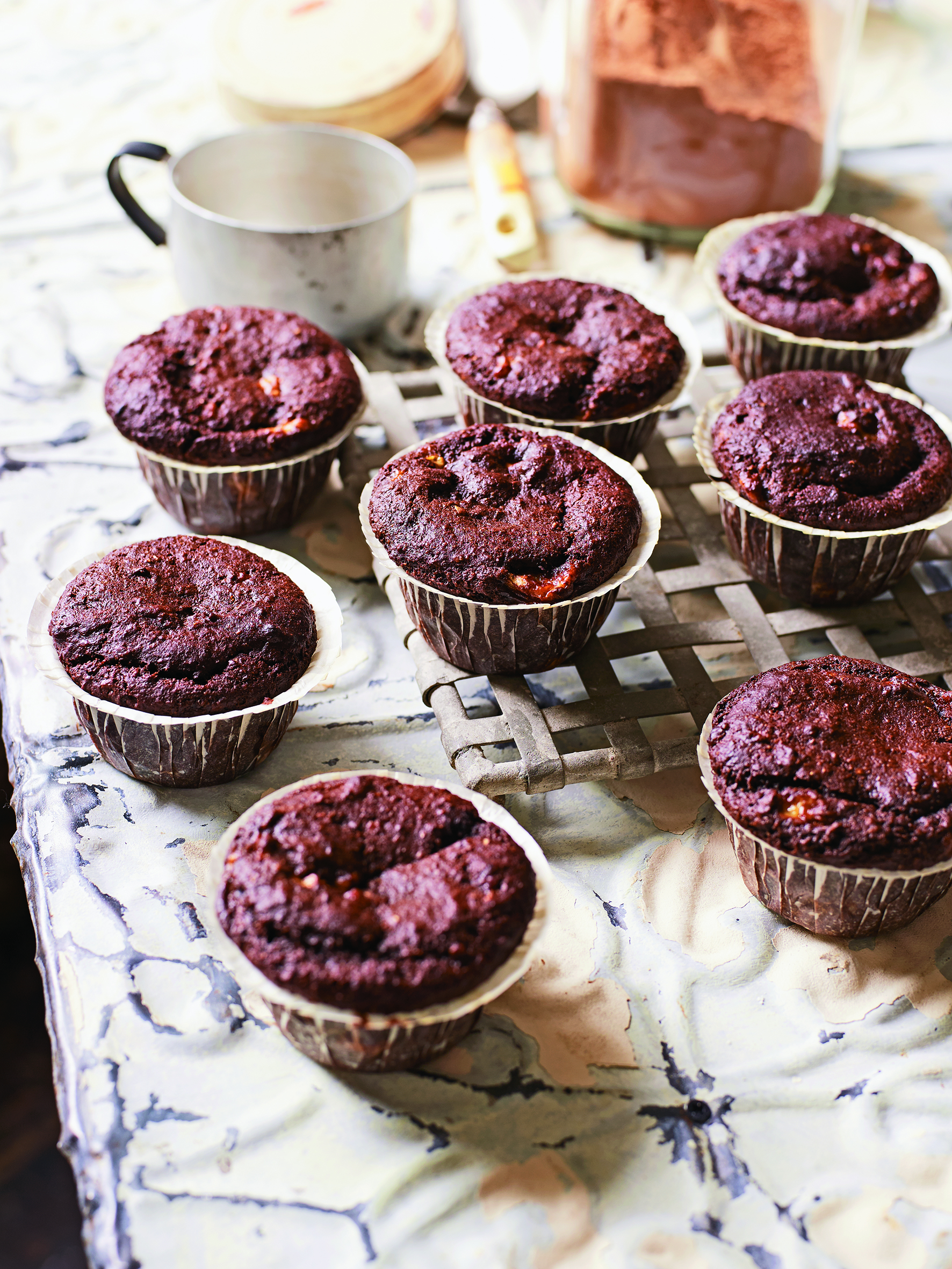 Chocolate Banana Cupcakes
No refined sugar, vegan too - quick and simple!
Is there anything better than sugar-free, vegan chocolate cupcakes? This recipe is sweetened primarily with bananas and it avoids eggs by using ground flax seeds instead. Make sure you use extremely ripe bananas that are blackened on their skins and very soft. This will ensure the cupcakes are moist and luscious. Carob has acquired a reputation in recent years for not being delicious, but that's not true! It's a wonderful ingredient to use alongside cacao. It gently sweetens the cacao to produce a smoother, more chocolatey flavour. In addition, the carob also supports the bananas in gently sweetening the cupcakes without the need for sugar. The brown rice malt syrup and coconut milk help sweeten them too, and provide a good balance of moisture.
MAKES 10–12
INGREDIENTS:
4 large, extremely ripe bananas
150ml/1 4 pint/2/3 cup sunflower oil
90ml/6 tbsp brown rice malt syrup
90ml/6 tbsp coconut milk
10ml/2 tsp vanilla extract
75g/3oz/1/2 cup cacao powder
75g/3oz/1/2 cup carob powder
115g/4oz/1 cup all-purpose (plain) whole-wheat (wholemeal) flour
25g/1oz/1/4 cup ground almonds
45ml/3 tbsp ground flax seeds
15ml/1 tbsp baking soda (bicarbonate of soda)
2.5ml/1/2 tsp ground cinnamon
2.5ml/1/2 tsp sea salt
METHOD:
1 Preheat the oven to 180˚C/350˚F/ Gas 4. Line a cupcake tin or pan with cupcake cases or papers.
2 Mash the bananas in a medium bowl. Add the oil, brown rice malt syrup, coconut milk and vanilla, and combine, using a fork.
3 Mix all of the other ingredients together in a separate large mixing bowl.
4 Add the wet ingredients to the dry ingredients and mix to combine, using a spoon, working quickly.
5 Spoon the batter into the cupcake cases so that they are about threequarters full. Bake for about 25 minutes in the preheated oven, until they are golden brown and spring back when lightly pressed. Leave to cool on a wire rack before serving.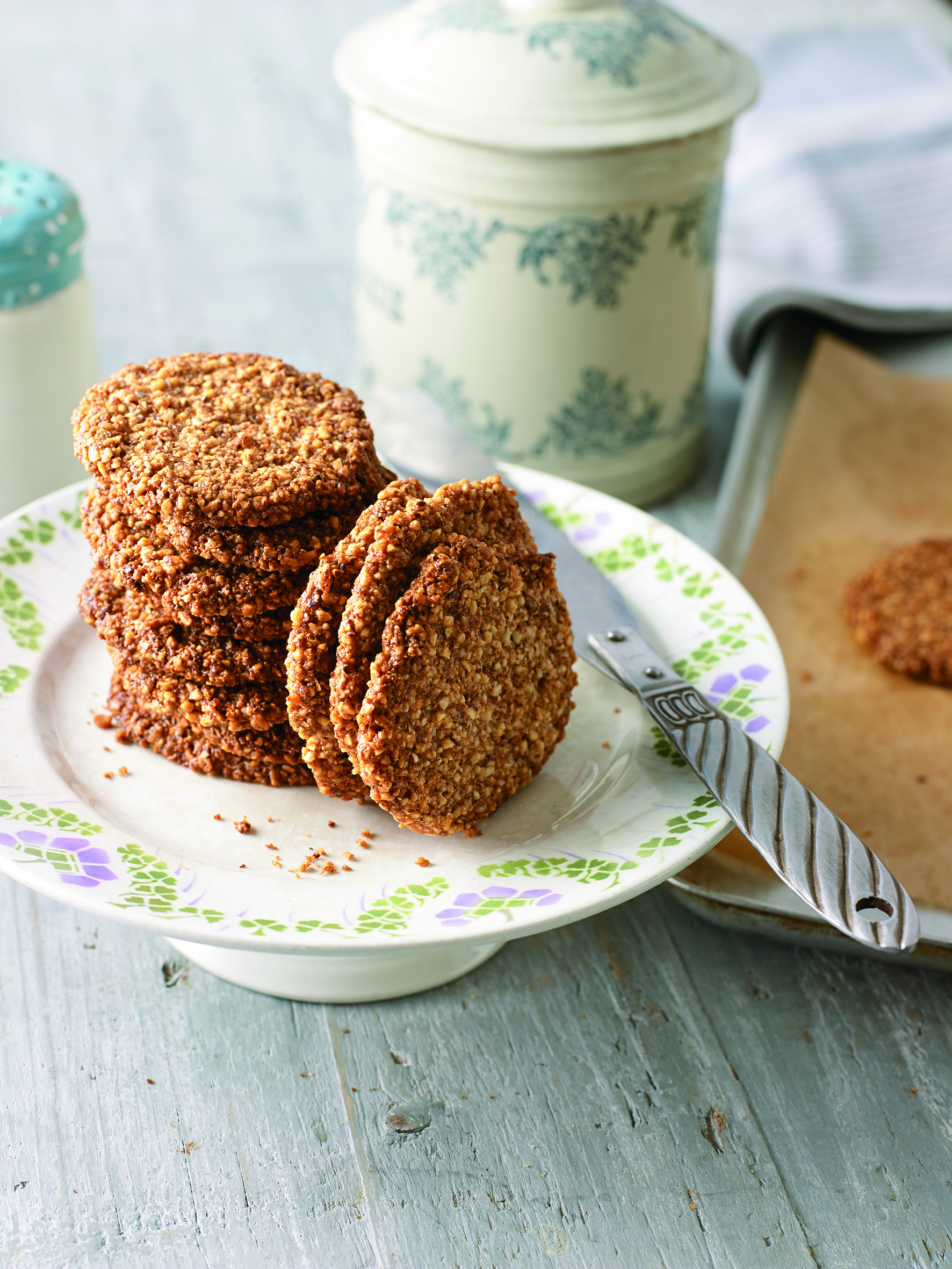 Vegan cookies sweetened with maple syrup
Vegan, sugar-free and gluten-free, these Florentines are thin and crisp with a gorgeous colour. By grinding your own almonds here, the brown skin of the nut is included because unlike store-bought ground almonds, your almonds haven't been blanched. Not only does this mean your cookies have more fibre, it also means the dry mixture is less absorbent, resulting in a much crisper cookie, with a more almonds flavor. If you skip the first step and use store-bought ground almonds, it will still create scrumptious cookies, but a very different kind. They will be smaller and more compact and similar to shortbread in texture. Whichever method you use, the result will be delicious. Truly, I love making them with store-bought ground almonds equally - they're just different!
MAKES 12
INGREDIENTS:
200g/7oz/1 1/2 cups raw whole almonds
0.6ml/1/8 tsp sea salt, to taste
1.5ml/1/4 tsp baking soda (bicarbonate of soda)
30ml/2 tbsp coconut oil
50ml/2fl oz/1 4 cup maple syrup
1.5ml/1/4 tsp almond extract
METHOD:
1 Preheat the oven to 160˚C/325˚F/ Gas 3. Lightly grease a baking sheet with oil and line it with baking parchment.
2 Put the almonds in a food processor and pulverize for about 30 seconds, until ground into tiny crumbs.
3 Pour them into a mixing bowl, add the salt and bicarbonate of soda, and mix with a fork.
4 Melt the coconut oil in a small pan over a low heat until liquid. Pour the oil, maple syrup and almond extract into the dry ingredients and stir to combine.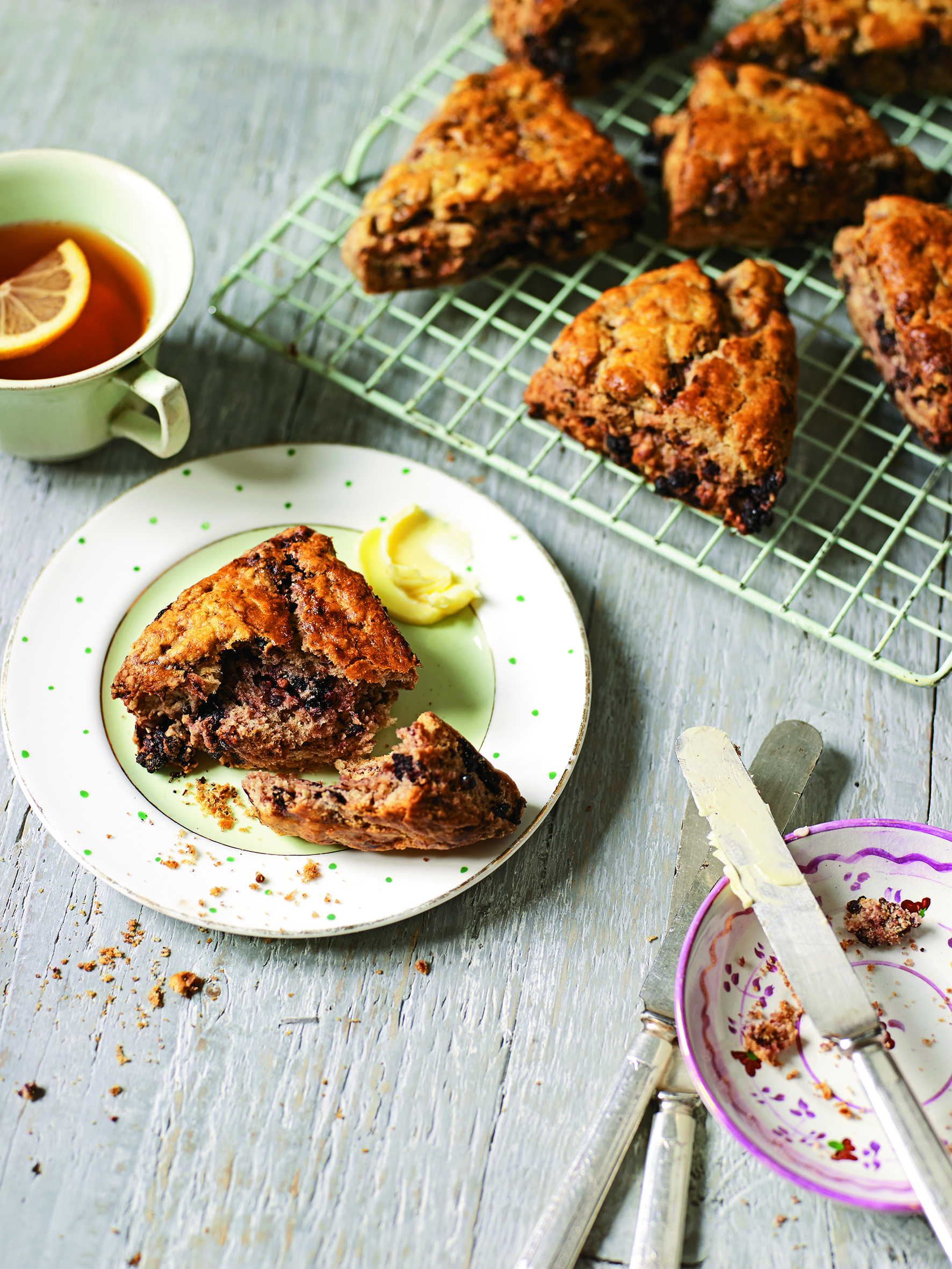 Because the word scones in the USA and the word scones in the UK mean different things…
Here's the news: you don't need to use sugar in scones. In fact, as long as you include the dried fruit and vanilla extract, there's no need to add any other sweeteners. This is a great recipe to start your voyage into sugar-free baking, because it's so simple and quick to make. Teatime just isn't the same without one! Try them either hot from the oven with butter, or cold spread with thick cream and fruit compote, served with a hot cup of tea. If you can't track down dried mulberries, this recipe works wonderfully with unsweetened dried cherries, dates, or dried plums. They are delicious made with barley flour instead of spelt, but it can be difficult to find.

And the word scones - well, in the UK, a scone is a round tea cake that's served with clotted cream and strawberry jam, and also can be found these days in modern flavorings, including savory versions like cheese and truffles.
In the USA, a scone is a triangular tea cake, made from the same dough, but generally eaten without the cream and jam, and instead broken off and eaten in bite-sized chunks with a hot tea.
Make either version with this recipe - simply cut out rounds for UK style scones, or make a log and cut triangles with a knife for US versions. They're yummy either way, and equally quick to make!
MAKES 8
INGREDIENTS:
175g/6oz/1 1/2 cups dried mulberries (or dried cherries, raisins, dates, plums, apricots, etc)
120ml/4fl oz/1/2 cup hot tea (any variety - try English Breakfast, or any herbal tea of your choice)
150g/5oz/1 cup spelt flour, plus extra for dusting
150g/5oz/1 cup all-purpose (plain) flour, plus extra for dusting
10ml/2 tsp baking powder
2.5ml/1 2 tsp sea salt
175g/6oz/3/4 cup cold unsalted butter, diced, plus extra for greasing
1 egg
10ml/2 tsp vanilla extract
50ml/2fl oz/1/4 cup milk, almond milk, or buttermilk
METHOD:
1 Put the dried fruit in a bowl, pour over the tea and set aside to soak.
2 Preheat the oven to 220˚C/425˚F/ Gas 7. Grease a large baking sheet with butter.
3 Sift the flours, baking powder and salt into a large bowl. Rub the butter quickly and lightly into the flour with your fingers until it is the consistency of breadcrumbs.
4 Drain the dried fruit and discard the liquid. Mix in the mulberries using your fingers.
5 Beat the egg, vanilla and milk together in a small bowl, using a fork. Gradually pour the egg mixture into the flour mixture a little at a time until the dough is very wet and sticky, but is still firm enough to be able to shape. Set aside the remaining egg mixture.
6 Dust the counter with flour, and use your hands to form a flat long rectangle that is about 2.5cm/1in thick and 6cm/2½in wide.
7 For traditional British-style scones, use a round cutter or an American biscuit or cookie cutter to press out 8 scones. For American-style triangular scones, cut the dough in half on the diagonal, and again into quarters, and then on a reverse diagonal cut it into eighths. Pick up each one, and quickly tap the sides down onto the floured counter, so that the sides are evenly dusted with flour.
8 Put the scones on the baking sheet, spaced at least 2.5cm/1in apart, as they will spread when baked. Quickly brush the scones with the remaining egg mixture.
9 Bake for 14–20 minutes in the preheated oven until risen and golden brown. Remove from the oven and serve hot or allow to cool if preferred.